Южно-Российский музыкальный альманах

South-Russian Musical Anthology
Iuzhno-Rossiiskii Muzykal'nyi Al'manakh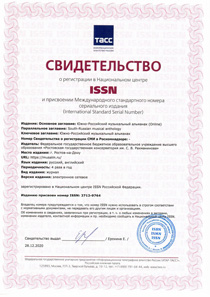 Academic journal
Founded in 2004
Since 2014 the journal has been published quarterly
The journal is included in the List of Academic Journals Recommended by the High Attestation Commission of Ministry of Education and Science of Russia
ISSN 2076-4766 (Print)
ISSN 2712-9764 (Online)
Subscription number in the Unified Catalogue «Russian Press» 79315
Founder and publisher:
Rostov State Rachmaninov Conservatoire
The journal is registered with Federal Service for Supervision in the Sphere of Mass Communication, Communications and the Protection of Cultural Heritage.
Registration Certificate: ПИ № ФС77-62392
23 Budennovsky av., Rostov-on-Don, Russia
Postal Code in Russia: 344002
E-mail: riocons@mail.ru
The full-text version of the edition, as well as abstracts in Russian and in English are placed in free access in the «Archives». All the archives of the journal are also presented in the Russian Electronic Scientific Library – RSCI.
The journal is registered as I︠U︡zhno-Rossiĭskiĭ muzykalʹnyĭ alʹmanakh in the union catalog OCLC WorldCat and at the Répertoire International de Littérature Musicale (RILM) as Ûžno-Rossijskij muzykal'nyj al'manah.
---
Rostov State Rachmaninov Conservatoire's academic journal "South-Russian Musical Anthology" has been recognised as one of the winners of All-Russian competition for funding of publishers specialized in arts and culture.
The journal has been awarded a grant of the Russian Cultural Foundation of 2021. Congratulations!
---
South-Russian Musical Anthology 2021–2 (43)
Contents
Musical Culture of the South of Russia
Khalitova М. Vocal works by Ilyas Bakhshysh
The Twentieth and Twenty-First Centuries Composers' Creativity
Finkelshtein Y. Semantics of the timbre of classical guitar in works for ensemble by composers of the Second Viennese School
Radu-Taga C., Turtă-Timofte L. Travelling through the compositional universe of Vasile Spătărelu
Mironenko E. Asynchrony of national stylistic directions as an indicator of the growth of Moldovan compositional school
Aspects of Musical Culture of the Twenty-First Century
Glushkova V., Zaritskiy V., Andrievskaya G. Contemporary mass media on a dialogue between word and music
Demina V. The musical component features of commemorial performance by Jeremy Deller «We're Here Because We Are Here» in the context of social turning-point action in arts
Problems of Traditional Culture
Rudichenko T. Genre systems of musical folklore: construction approaches
Music Education
Astashev D. Professional education of a singer in the context of the European idea of harmonizing the educational environment
Aspects of Mass Musical Culture
Slobodchikova A. Borrowing from the classics as a method for individualizing the style of the rock band Muse
Problems of Musicology
Ekimenko T. About the national features in music by Karelian composers
Serov Yu. Satirical vocal cycles by Dmitry Shostakovich in the orchestration of Boris Tishchenko
Sycheva N. Fantasies by A. Chernov: to the problem of genre interactions
Frantova T. Laocoon and Aphrodite "Rolled Into One", or Life and Death of Academic Music Studies in the Electronic Era
Problems of Musical Theater
Klimova N. Libretto of A. Izosimov's ballet «The tale of the Green Snake and the Beautiful Lily»
Performing Art
Kopyryulin M. The campaign of the fight against formalism of 1948 in the Soviet music and professionalization of the folk instrumental performing art in Russia: the interconditional paradox
Ponomareva E. S. Richter in ensemble with D. Fischer-Dieskau: the inimitable "unity of opposites"